Land the Job! Our Top Phone & Video Interview Tips!
Last updated August 14, 2023
Virtual interviews are quickly becoming the "new normal". Hiring managers are shifting away from in-person interviews and relying more on phone and video conferencing to find the best candidate for their open positions. Use these tips to help you rock your next phone or video interview.
Phone Interview Tips
Research your interviewers
Know who is conducting your interview. Oftentimes the recruiter or hiring manager will tell you in advance who you are interviewing with. Do an online search to determine your interviewer's role at the company.
Review the most common interview questions
Be ready to rock your interview by practicing the most common interview questions so you know what you might be expected to answer. Check out our video below for tips on how to answer the most common questions.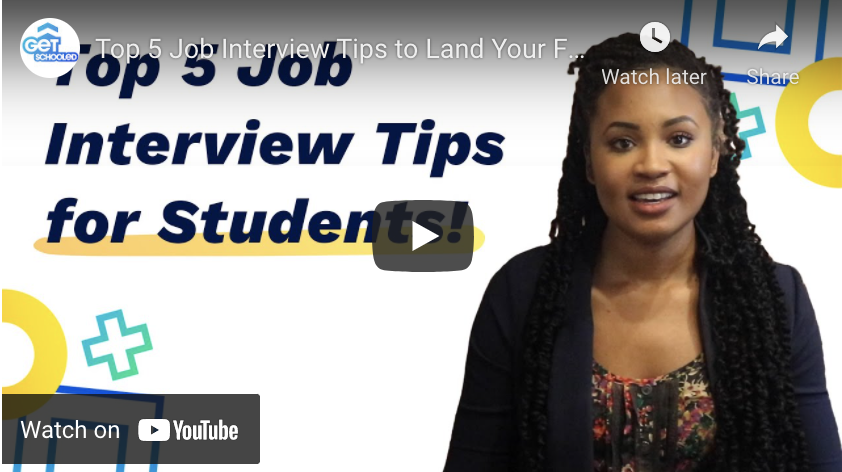 Prepare 3-4 questions to ask during the interview
Interviewers want to know that you are interested in the role and asking great questions is critical to showing that you are eager to take on this role. Here are a few interview questions to get you started.
Do a test phone call
Do a quick test with a friend or family member to make sure your phone sounds clear. Figure out if you want to use a headset or use the speakerphone feature. Pro tip: make sure your phone is fully charged for the interview. Also, let your friends and family know that you will be unavailable and ask them not to call or text during your interview time so you can stay focused.
Dress up
Even though the hiring manager can't see you, dressing up will put you in the interview mindset. Need inspiration on what to wear? Check out our video on how to put together an interview look.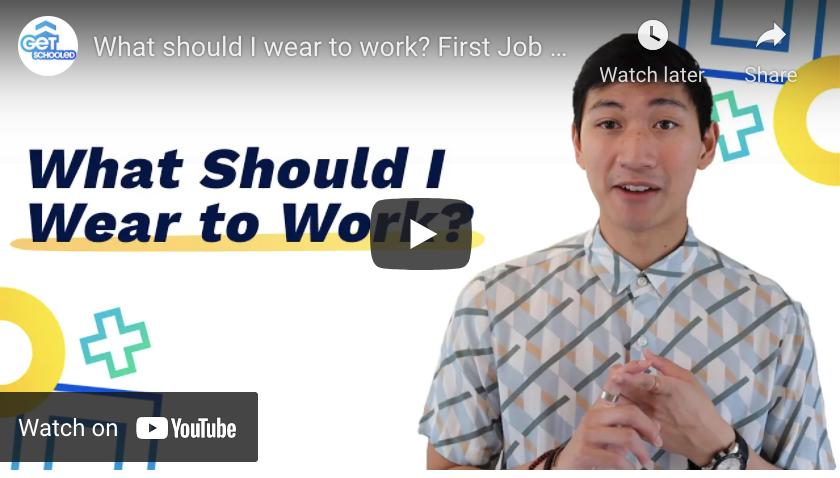 Find a quiet place for your interview
Close the windows and turn off loud appliances. Phones can pick up a lot of background noise.
Don't call in too early
The interviewer might not be ready. Try calling in two minutes beforehand. If you're waiting for the call, be patient if they call you a little late.
Try to smile while you speak
One of the cons of a phone interview is not being able to see facial expressions, so smile to relieve stress and to not sound so robotic.
Send a thank you note if possible
Write a thank you to highlight something that stood out during the interview and show your gratitude for the opportunity to interview.
---
Video Interview Tips
Preparing for a video interview is similar to preparing for any other interview (so be sure to review all the tips in the phone interview section). However, there are a few additional things to consider when conducting a video interview.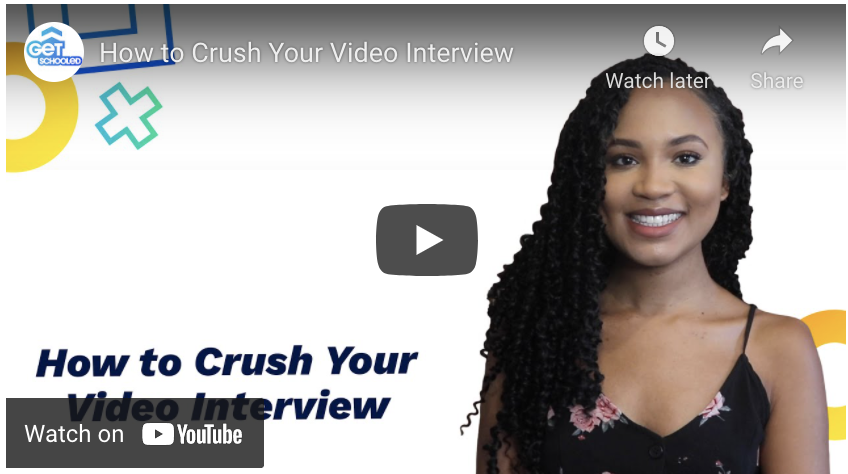 Is it a live or pre-recorded video interview?
There are two types of video interviews, live and pre-recorded (also known as a one-way interview). Live video interviews means you are interviewing with a real person, whether they be a recruiter or hiring manager via a video conference platform such as Zoom or Google Hangouts.
Pre-recorded interviews typically require applicants to log into a platform to answer a set of predetermined questions via video, audio-only or text. Most pre-recorded interview questions have a time limit, so when preparing for your interview, strive to answer each question in 90 seconds or less. It can feel awkward to conduct a pre-recorded interview. Try your best to respond to the questions as if you are having a live conversation, especially since your answers will be watched by real people afterward.
Familiarize yourself with the technology
Ask the recruiter or hiring manager which platform they are using to conduct the interview so you can download the technology and troubleshoot any issues in advance. Common video conference platforms are Skype, Zoom, Google Hangouts, and Microsoft Teams.
Use a laptop or desktop computer with a webcam for your interview (if possible)
If you have to use your phone for the video interview, place it on a tripod or a phone stand at eye level so your video isn't shaky and you can be hands free.
Find a private well lit space for your interview
You want to minimize as much noise and distractions as possible so you can focus on acing your interview. Find a quiet corner to conduct your video interview. If possible, try to sit in a well-lit area so your interviewer can see you well. Pro tip: use headphones during your interview to lessen background noise and so you can hear better.
Need some support as on preparing for your interview or on your job search? We're here for you! Just text #Jobs to 33-55-77 to chat with one of our advisors, or click here to have the text message set up for you!